Aluminum gimble Recessed Downlight KT6990
Aluminum Gimble Recessed Downlight Information:
Cutout: φ95mm
Body Material: Aluminium
Trim Finish: Matt White / Matt Gold / Matt Black
Lamp Head: Rotatable
Installation: Recessed
IP: 20
LED Chip: CREE
LED Driver: AREEK
Total Power: 8W
Luminous Flux: 655LM
CCT: 3000K
CRI: >80
Beam Angle: 4° / 25°
Certificates: CE ROHS
Factory Warranty: 3 Years
Inner Box Dimension:
Standard Carton Dimension:
Qty Per Carton:
MOQ: 200PCS
The aluminum recessed downlight is a way to express a minimalist appearance to the life. Minimalist appearance and exact production cost controlling which makes TAURUS series can be good at promotion.
The anti-glare recessed downlight is the perfect choice if you are looking for discreet lighting for commercial or housing. With the exception of standing directly underneath it, this light source is completely invisible and will create a smart, modern and seamless finish in any space. The gimble recessed downlight will appeal if you like the minimalist look for your decor and the slim matt white / grey/ black to the overall contemporary finish.
The key feature on this modern IP20 rated fitting is the drop bezel which recesses the light itself back into the ceiling further than standard downlights.
The anti-glare recessed downlight spotlights are very low energy and have long lasting bulbs and as a result are very economical to run.
How to install the Recessed downlights?
Refer to the KETAI's instruction manual for step-by-step instructions, safety, and warning. If in doubt, consult a qualified electrician.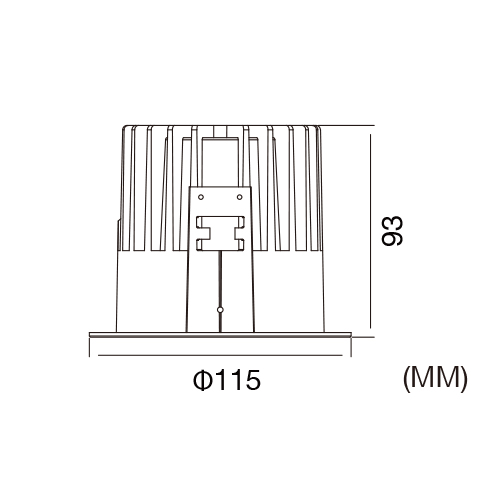 Aluminum Gimble recessed downlight additional Information
Model: KT6990
Brand: KETAI
Cutout: Dia95mm
Type: Recessed ceiling light
Format: Rotatable Downlight
Technology: Universal
Download Now
Recessed Downlights Series
Just need one click, you can get the whole line of our recessed downlights catalog
Download Now
HTML Forms powered by Wufoo.